Need some personalized advice?
Your Business' Most Valuable Assets Are You and Your Employees
Your Business' Most Valuable Assets Are You and Your Employees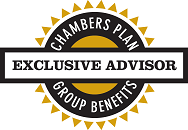 Benefits build your company's value, and authenticity.
It shows you care not only about the well-being of your company, but the people behind that company.
The physical, mental and financial health of you, your family, and your employees is a priority. Second to that? Catering to that priority without breaking the bank. Because of this, we offer plans tailored to even the smallest budgets. From the solopreneur Etsy shop owner to the large law firm, we are exclusive providers of the Chambers Group Plan for a reason. This plan provides a stable, high level of coverage, with thousands of businesses covered. It is a non-profit plan, where premium surpluses are funneled back into the plan to create more programs.
Benefits That Retain, Reward & Recruit
The market is competitive and businesses that offer benefits to recruit and reward top talent have much higher retention rates.
BUSINESS AS USUAL…
Knowing you, your family and your employees are covered for a life well-lived!
Building your company's worth begins from the inside out. And starts with well-being. When you build an effective benefits plan into your company culture, you also build longevity, authenticity, and a reason to work for you, over the next guy. As a family business ourselves, A. Hopkins Insurance understands and provides for the needs of small and medium-sized businesses.
Testimonials From Our Community

Patrick Lago
President, Lago Golf Academy
We need to make sure we are healthy and in good shape, so as we bring on more instructors adding them to The Chambers Plan is an added benefit so they know they are protected to any injuries and liabilities. The app is amazing by the way!

Jim Gillis
President, Haida Forest Products Ltd.
Our company has dealt with A. Hopkins Insurance and the Chambers of Commerce Group Insurance Plan since 2012. We have been very pleased with the professionalism and ease of doing business with them. The Chambers of Commerce Group Insurance Plan is comprehensive and very easy to administer. Our employees are very satisfied with the benefits and services of the Plan. I would recommend Andrew, and A. Hopkins Insurance, to any company looking for a quality group benefits provider.

Diane Keough
HR Manager, BARE Sports Canada Ltd.
BARE Sports has been using the Chambers Plan Employee Benefits since April, 2014. We joined the Chambers Plan because we wanted to be part of a "pooled plan", knowing our renewals would be more predictable and sustainable for years to come. The plan is easy to administer and our Advisor Andrew Hopkins, is always available when we need him. I have recommended Chambers on more than one occasion. An added selling point for me is the Chambers membership. I relied on the newsletters, as well as one on one assistance from Cory Redekop, when learning the ins and outs of issues specific to COVID. The newsletters became invaluable to me. WCB guidelines, when and how to apply for CERB, and so on. I still rely on those newsletters.

Simon Knight
General Manager, FashionBiz
"I thoroughly recommend that your business considers the Chambers Plan for your employees benefits. FashionBiz moved to the Chambers Plan just over a year ago and we are all delighted with the coverage, which at an employee level is better than the prior plan & also financially the plan is actually cheaper as well. Our advisor is Andrew Hopkins & he is an extremely knowledgeable individual. What separates Andrew from the competition is his attention to detail, impartial advice & outstanding response to any & all questions we have regards to our plan. You won't be disappointed!"