Need some personalized advice?
Your Business' Most Valuable Assets Are You and Your Employees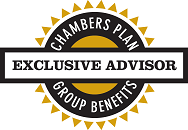 Benefits build your company's value, and authenticity.
It shows you care not only about the well-being of your company, but the people behind that company.
The physical, mental and financial health of you, your family, and your employees is a priority. Second to that? Catering to that priority without breaking the bank. Because of this, we offer plans tailored to even the smallest budgets. From the solopreneur Etsy shop owner to the large law firm, we are exclusive providers of the Chambers Group Plan for a reason. This plan provides a stable, high level of coverage, with thousands of businesses covered. It is a non-profit plan, where premium surpluses are funneled back into the plan to create more programs.
Benefits That Retain, Reward & Recruit
The market is competitive and businesses that offer benefits to recruit and reward top talent have much higher retention rates.
BUSINESS AS USUAL…
Knowing you, your family and your employees are covered for a life well-lived!
Building your company's worth begins from the inside out. And starts with well-being. When you build an effective benefits plan into your company culture, you also build longevity, authenticity, and a reason to work for you, over the next guy. As a family business ourselves, A. Hopkins Insurance understands and provides for the needs of small and medium-sized businesses.
Testimonials From Our Community

Jim Gillis
President, Haida Forest Products Ltd.
Our company has dealt with A. Hopkins Insurance and the Chambers of Commerce Group Insurance Plan since 2012. We have been very pleased with the professionalism and ease of doing business with them. The Chambers of Commerce Group Insurance Plan is comprehensive and very easy to administer. Our employees are very satisfied with the benefits and services of the Plan. I would recommend Andrew, and A. Hopkins Insurance, to any company looking for a quality group benefits provider.

Diane Dykhuizen
Payroll & Benefits, AP, Customs, BARE Sports Canada
"We needed a new benefits provider and approached Andrew early in 2014. With his direction and support, our switch from the old carrier was completed effectively and efficiently. We always had a full range of benefits, but now we enjoy quality benefits at affordable rates. Everyone is particularly impressed with timely responses to questions and issues. It's been a very positive experience, and employees are very happy with our new plan. All in all, excellent service and we would highly recommend Andrew to any company needing group benefits solutions."

E. A. (Liz) Doell
King Marketing, Office Manager/HR
"I am very fortunate to be working with Andrew Hopkins of A. Hopkins Insurance & Financial Services Inc. as our insurance broker. For over 10 years Andrew has made my position as Benefit Administrator much easier. He is a pleasure to do business with and there has never been a question to silly or difficult I have given and he has responded to quickly and with clarity. Andrew has always had our company's best interest in mind and has given sound advice from the type of coverage to cost effectiveness. I think any individual or company would benefit greatly from Andrew's services."

Lori Marshall
Corporate Controller, Inpixon Inc.
"I have been using Andrew for 15 years and find the professional and courteous service top notch. We look forward to our continued relationship with Andrew and A. Hopkins Insurance & Financials Services Inc."
Small Business Tips & Articles