In today's diverse array of competitive employment cultures, employees are looking for more than just financial compensation. They are looking for employers who invest in their wellness, both inside and outside of the office. They want an employer who not only supports their overall health, but the quality of health of their families. Investing in employees in this way actually leads to higher employee retention, and increased loyalty.
For this reason, consider attracting and retaining employees with a comprehensive group benefit's plan. This encompasses everything from traditional health and dental benefits to alternative arrangements like employee wellness programs, or flexible work conditions. Group benefits build employees' efficiency, productivity, and happiness. Employers also gain tax benefits by providing these plans to employees. In some cases, premiums can be deductible as a business expense.
Flexible plans offer employers and employees cost-effective, customized ways to address their insurance needs. Choose from an array of benefits like: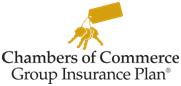 We are an exclusive provider of the Chambers Group Plan for a reason. This plan provides stable, high-level coverage, with thousands of business covered by its plans. What sets us apart from other insurance providers? Chambers Group Plan's non-profit structure funnels all premium surpluses back into the plan to create new programs and keep the pool stable.
The Chambers of Commerce Group Insurance Plan has been protecting Canadian firms for over 40 years. More than 30,000 small to midsize businesses choose the Chambers Plan to protect their employees with comprehensive group benefits, including Health and Dental insurance, making it Canada's #1 employee benefits plan for small business